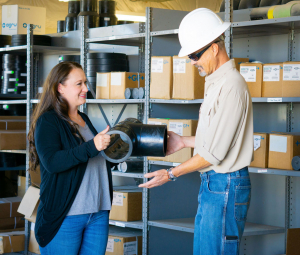 OUR PEOPLE, OUR PEOPLE, OUR PEOPLE
As in any business, good people are the key in manufacturing to producing a good product.
OUR EXPERIENCE
Alpha Equipment has been in business since 1976 and Co-Ex Pipe since 1981. We know the pipe business.
OUR COMMITMENT TO CUSTOMERS
We understand our customers and the unique challenges of the environments in which they work. Finding the right product at the right time and at the right price can be challenging. We pride ourselves on our ability to accommodate individual needs and work hard to provide the support required for our customers to succeed.
ALL WE DO IS POLYETHYLENE PIPE
We are not a "diversified" business that spreads its resources thin to support multiple dissimilar product lines. We are dedicated to the production of polyethylene pipe. From manufacturing our own pipe to carrying a complete line of fittings, we strive to provide a broad range of resources to satisfy our customer's needs.
WE USE AMERICAN RESINS
Co-Ex Pipe continues to provide high quality polyethylene pipe with resin sourced from American vendors. This helps to ensure the resins we use are top-notch and able to withstand the rigors of harsh environments.


---
What additional services do we provide?
Alpha Equipment Company, sister company and sales office for Co-Ex Pipe, is conveniently located in Midland, Texas at 1823 South Midkiff. We stock polyethylene fittings from 1" through 24" in size to cover most situations you may encounter in the field.
We provide turnkey delivery services for pipe fittings from Alpha Equipment and Co-Ex Pipe can deliver pipe to any destination in the continental United States.
What markets do we specifically serve?
Oil & Gas gathering, Potable Water, Waste Water, Mining, Industrial and Farm & Ranch operations comprise a significant portion of the customers we serve.
What geographic areas do we serve?
Metroplex, Permian Basin, EnergyPlex, Delaware Basin, Abilene, Andrews, Big Lake, Lubbock, Midland, Monahans, Odessa, San Angelo, Pecos, Crane, McCamey, and Iraan in Texas, and Artesia, Carlsbad, Hobbs, Eunice in New Mexico.